Dear readers,
Before leaving for Paris this weekend to spend time with my family I am squeezing in a post after almost a month's silence.
Although the season for wild violets came to a close early April in our corner of France I have been cultivating my love for these tiny blooms with hand-dyed threads and a beautifully-penned book.
In a recent post of mine, also dedicated to violets, the author Kathy Leonard Czepiel wrote a comment gently suggesting I read her debut novel A Violet Season (published in 2012). It took me two minutes to order it and two evenings to devour its two hundred and fifty odd pages.
I recall my primary school master decades ago urging us not to judge a book by its cover but his cautionary words flew out of my head when I set eyes on this pretty cover. Fortunately, in this case, this book is both beautiful without and within. It is also hard and frank; a dark tale of a hardscrabble life set in 1898 on a violet farm Upstate New York. Leonard Czepiel's carefully researched and constructed novel carried me back to the turn of the twentieth century and kept my senses alive with every page I turned. It is
a finely-written tribute to late nineteenth-century women's endurance which has put in check my daily and trivial grumbles. The booming violet industry provides a sensual backdrop to the dashed hopes and drudgery of most women who must endure the sometimes heartless decisions and subterfuge of their menfolk and teaches the reader how hardy both violets and women can be. It is also a book delightfully stuffed with details of the everyday life of over a century ago. Glimpses of city life provide a counterpoint to the Fletcher family's rural existence. Household chores, Christmas traditions - violets were grown over winter, not spring - and one of the early sewing machines makes an appearance too!
I will not share the storyline of A Violet Season with you but I will say that a woman's relationship with her daughter is damaged (beyond repair?) as they both make dreadful sacrifices for their family's survival.
And the violets in the first picture above? They are a work in progress from Blackbird Designs (I purchased the sampler chart, linen, and threads from here ) and the perfect complement to my recent reading. The violets are stitched on Iced Cappuccino hand-dyed linen from R & R Reproductions with Weeks Dye Works floss in River Rock, Stepping Stone, and Stone colourways.
Finally, in a desire to feed Angélique's overwhelming enthusiasm for Nursery Rhymes two years ago I stumbled across Salley Mavor's stunning textile artwork through this book. I recall showing it to my mother on one of her visits to our home and she too was in awe of this amazing artist's attention to detail and the rich colours she uses.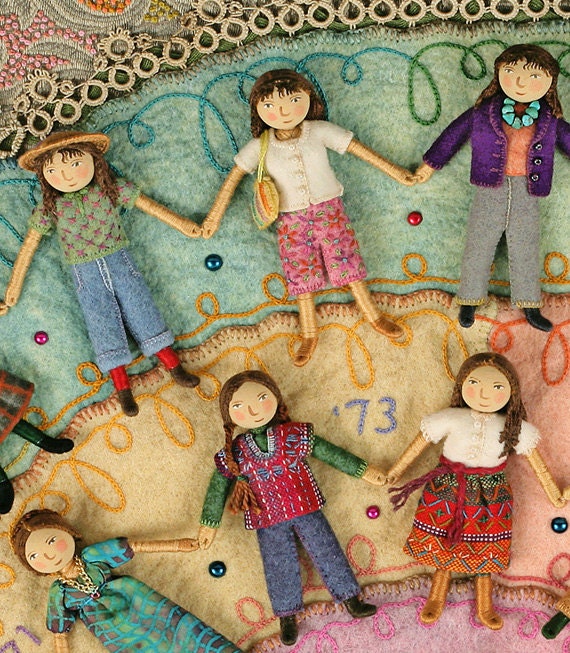 A few weeks ago I purchased a signed copy of Salley Mavor's Self Portrait: A Personal History of Fashion. I was touched to receive a second copy, also autographed, which I decided with the artist's approval, to send as a gift to one of you. This fabric relief sculpture incorporates miniature dolls which represent each year of the artist's life; each one is hand-stitched and displays a wealth of details of fashion over the past fifty years.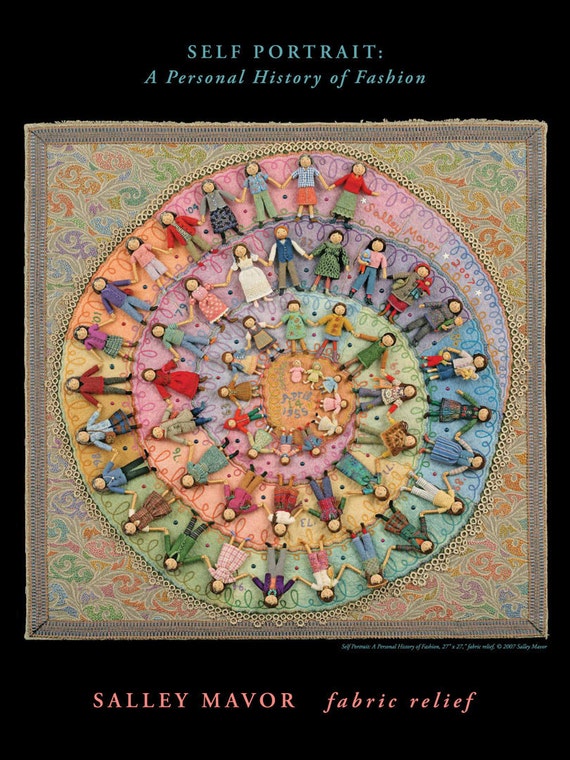 If you are interested in receiving a copy of this work of art together with a poster of Mavor's beautiful Blossom Fairies please leave me a comment below. I will announce the winner in just over a week.
I hope you are all well and happy. I dedicate this post to my American friends who are finally enjoying violets after a long winter.
ps BE WARNED! To celebrate (almost) three full years of this small blog of mine there will be a Spring Hare Giveaway on my next post. She is blooming, kitsch and cheery in equal measures!