Thank you so much for greeting Gaspard our new puppy with so much enthusiasm. He is rather delicious, isn't he?
We are all in adoration of him - very proper for a puppy named after one of the Magi - but we are learning to handle him with a gentle but firm hand. I cannot help feeling I am now a mother of four. Is that normal?
Le Bal des Ifs, Charles Nicolas Cochin (1715-1790)
Isn't this painting beautiful? What do you make of those strange green shapes?
Box and yew topiary served as ornamentation in
the gardens of Versailles and inspired the costumes worn for royal festivities for many years. On February 25th 1745 during a particulary icy spell the wedding of the dauphin was celebrated by a masked ball named Le Bal des Ifs (The Yew Tree Ball). The bridegroom was metamorphosed into a gardener, his wife into a flower seller. Eight yews (as seen in the painting above and below), clipped to enhance the natural beauty of the trees and tailored to grace the human form, appeared from the frosty gardens, one of which was no less than Louis XV. This sumptuous ball, which started at 11.30pm, also marked the beginning of a long, passionate affair between Louis XV and the future Marquise de Pompadour.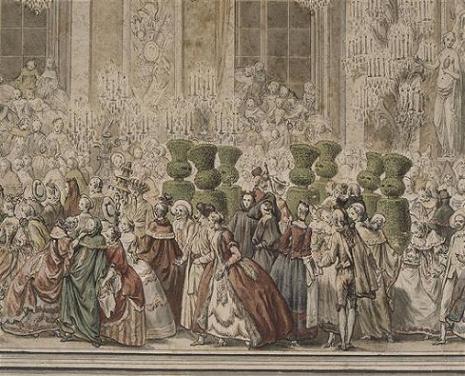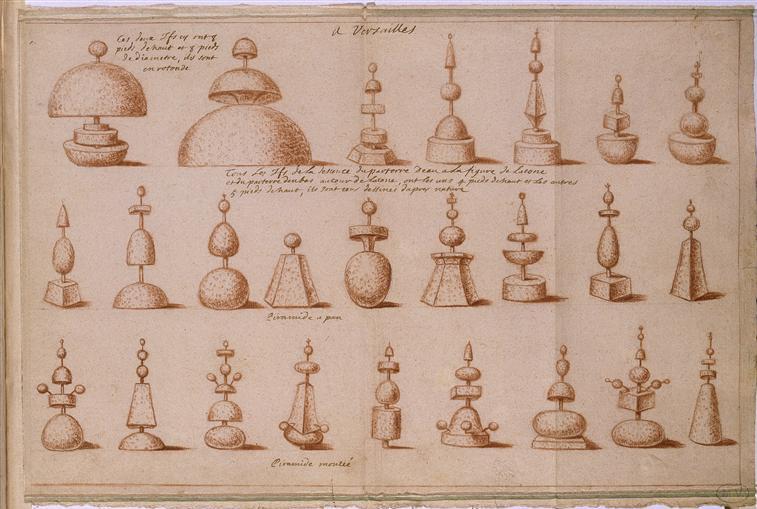 Topiary shapes in the gardens of Versailles during Louix XIV's reign
I love the art of trimming evergreens into geometric or fantastical shapes.
Topiary is stunning with a powdering of frost as seen in the picture below or on a moonlit night when its silhouettes cast beautiful shadows over lawn and paths.

To my mind there is a similarity between the slow trimming and clipping of topiary with shears and knitting. Both art forms produce three-dimensional structures which require patience and time to create. A little clip of the shaggy box is synonymous with a small knit stitch. Many stitches and clips later one may stand back and admire one's handiwork.
The big freeze and blue skies have continued all week long. The dazzling sun has cast curious shadows on our snow-blanketed garden.
Here is the shadow's owner.
Mademoiselle Toadstool.
This little rabbit is evidently also fond of topiary balls.
She owns two skirts and sports an embroidered toadstool on her ankle.
Miss Toadstool is winging her way as I write to the Czech Republic to the magical home of the adorable little Eliska, the daughter of Tracy who is undoubtedly a wonderful woman. How I wish she lived close-by! In exchange for this rabbit Tracy is creating one of her amazing dolls for Angélique. I cannot wait to show her to you all when I receive her!
I am very slightly pleased with this creature as she has been put together after a lot of mulling over with my very own pattern. I hope she finds favour with Tracy and Eliska who I am certain will look after her splendidly.
Bon voyage Mademoiselle Toadstool. I wish I could creep into your suitcase and travel with you!
Stephanie
ps I think it is only fair to let you know that the next post will involve my second giveaway!